| | | |
| --- | --- | --- |
| Convert DWF to PS Fast | | (only $99.00) |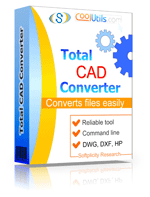 If you have DWF drawings and want to share them online, you can convert them to PS format. This file type is very familiar to PDF, supported by lots of document viewers. Now it became a standard format for online file sharing, and it can help you to make DWF format viewable without Autodesk software. The best way to convert DWF to PS is using Total CAD Converter. This is a converter specially intended for exporting CAD drawings to more common formats, making them viewable in standard applications.
As drawings usually contain a lot of details and have complicated structure, the main problem of exporting them to another format is saving all data correctly without loss in quality. With the help of Total CAD Converter this task is solved flawlessly. It is easy in use, but 100% reliable converter able to process any number of DWF drawings in one conversion cycle. The program features the following advantages:
Support of all major CAD formats
Ability to convert many files by one command
Wide range of adjustable options for each conversion format
Quick file processing
In-built drawings viewer
Command line support
In order to export files in DWF to Post Script, you only need to select proper sources in the navigation panel and press PS button in the top format bar. If there are lots of different drawings in the folder you can check DWF ones automatically with the help of Check by mask option. You can either specify your own conversion parameters or use default ones offered in options wizard. The program will turn your originals in DWF into PS files within seconds. You will be able to check the results after conversion is complete. All conversion options of this DWF PS converter can be specified by command line parameters, and conversion process adds up to writing one correct command. Try it now for free!
Interface languages: English, Spanish, German, French, Russian, Japanese.
Win 2000/NT/XP/2003/Vista/7
Related topics
Convert files from DWF to DXF format
Convert DWF to SWF in batches with comfort.
Batch DWF Converter by Coolutils.
Converter DWF to PCL with transparent interface
Converter DWF to CGM with custom settings
Converter DWF to HPGL professionally.
Converter DWF to PLT automatically.
Converter DWF to SVG with custom settings
Convert DWF to WMF in batches easily.
Convert DWF to PNG like a Pro!
Convert DWF to BMP with comfort
Convert DWF to JPEG like a Pro