If you have already purchased this Email XHTML converter, you have done the right thing, because this is the right solution for everyone willing to convert Email messages to XHTML. What makes this tool really attractive is its robust and easy-to-follow interface. Thanks to its simplicity, both experienced users and beginners feel equally comfortable with this program. You don't need a guru to lecture you. This batch Email converter pulls it off in seconds. Simply put, it converts a pretty handful of Emails to XHTML over a short period of time. You can specify any number of messages and launch conversion and just wait for the program to carry out the assignment.
This converter has command line and therefore it can be run from other programs. Its user-friendly interface is available in 13 languages: English, German, French, Italian, Spanish, Portuguese, Swedish, Dutch, Russian, Czech, Chinese, Korean and Japanese.

How to Operate it
To convert Email to XHTML in batch, you should do the following:

Check as many messages as you wish to be saved in the XHTML format. If you have saved your Emails on your PC, the folder, in which your messages are stored, will be available in the folder tree. If you click on that folder, the messages will appear in the right-hand section of the interface. There is a checkbox near each message, so you can assign the program to convert particular messages by ticking them. You can either tick them optionally or you can check them all using the 'Check All' button and batch-convert.

Next thing you should do is select XHTML in the target format bar or Convert menu.

The wizard will offer you more options. Here you can set the destination folder, apply name templates, specify fields to export your messages (Sender, Recipient, etc.), adjust appearance. Also, you can choose what to do with attachments. You can save them in different folders, unzip archived attachments, include attached messages into your documents or convert them.

To complete the procedure, click 'Start' and wait until the program finishes the work.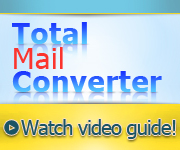 Many users have tested and purchased this converter and they say it is really worth the money. Actually, you save a lot more than you spend, because you buy a lifetime of comfort and productivity!