Episode Player is a free program for everybody who likes watching TV series. No matter what you like Star Wars or House M.D., Episode Player will help you a lot. It remembers the exact episode you watched last time and next time it starts the next one.
The common situation is like this. You downloaded a few seasons of several serials and watch them from time to time. A regular player will not help you to find the episode you watched last. You have to open each file to learn if you have watched it or not. That is a dreary thing to do! Download the free Episode Player and let it remember all the episodes you have watched for you.
Episode Player is very easy-to-use. You open it and select the folder with your video files. It automatically shows you the list of the episodes and marks each of them. Now you know what eposides you have watched and what you are to watch now.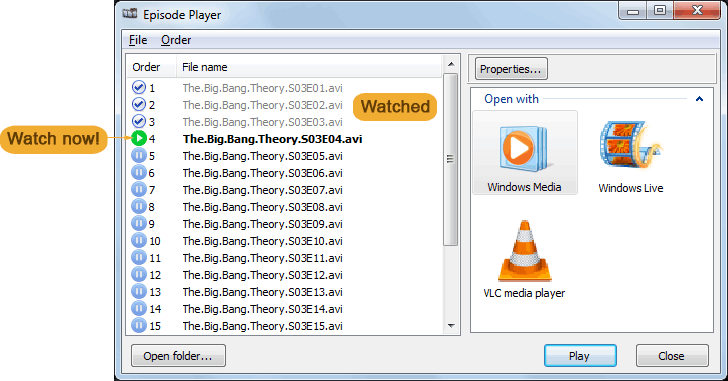 Episode Player is a freeware clean from any adware or additional bars. We created it for ourselves and many of our frieds found it great. So want to share it with you too. Download your copy now and get a better watching experince!