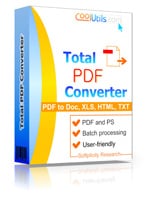 Windows XP/2003/Vista/7/8/10
PDF format can store different kinds of text and graphic information. This format is extremely flexible and handy for storing complex documents. However, it is rather limited in functionality, as there is no ability to edit graphics right in PDF document. You need to export PDF to TIFF or some other image format to make it suitable for the future modifying. By converting document into another format you can extend the PDF functionality and use the documents much more efficiently.

The program that supports PDF to TIFF conversion is Total PDF Converter. This is functional PDF document converter that offers to export files to any of 16 supported target formats. Each conversion mode is similar, but the range of options may vary depending on the file type. As for the TIFF conversion, there are the following parameters available:
Image DPI (75, 150, 300 DPI or custom)
Page size
TIFF compression (LZW, JPEG, RLE, Bilevel, etc.)
Multipage TIFF (exporting the whole PDF file into one TIFF image or rendering every PDF page into a separate TIFF file)
If you donít have the lack of memory space and want to save the information in the highest quality, you can leave TIFF files uncompressed. In such a way exporting PDF to TIFF will be done without applying any compression algorithm.

The PDF converter exports PDF to TIFF with both default and manual settings. If you feel the lack of time, you can skip any manual adjustments and get files converted in two clicks. If you prefer to handle applications via command line, this converter will definitely suit you, as it supports command line mode. One single command will enable the application in the background mode.

Total PDF Converter simplifies any tasks connected with converting PDF files. Getting it once, you will never experience any problems with rendering your PDF docs to other formats. Try it now - download the free trial version!