What is ODT?
ODT, short form for Open Document Text, is a file format for word processing, or text documents. It is part of the Open Document Format (ODF) that also includes spreadsheets, charts, and presentations. Originally created by Sun Microsystems Inc., the standard was later developed by OASIS, or Organization for the Advancement of Structured Information Standards, based on the Open Office XML format. The ODT file format was formally approved on May 1, 2005, and officially published on November 30, 2006.

ODT files, which use '.odt' as file extension', are created with the Open Office and the Star Office word processor, Writer, and may be opened and edited by any Open Office compatible program. The programs that open ODT files directly are AbiSource AbiWord (on Windows, Mac, and Unix), IBM Lotus Notes 8 or later (on Windows, Mac, and Unix), OpenOffice.org Writer (Windows, Mac, and Unix), Microsoft Word with OpenXML/ODF Translator Add-in (on Window), Sun Microsystems Writer (on Window), Apple TextEdit (on Mac), NeoOffice Writer (on Mac), and KOffice KWord (on Unix).

Besides being a simple XML file that uses as the root element, ODT can also be a ZIP compressed file containing a number of files and directories. These ZIP-based files, which are considerably smaller in size, can also be opened by unzipping them and then opening the file named content.xml on Notepad. The content of the document can then be easily read.

ODT files are not very common, but are soon expected to become an industry standard for sharing documents since they are XML based, easily portable. They may be opened using several programs besides the Open Office or converted to XLS, PDF, HTML, ODS, TXT or other formats by Total Excel Converter.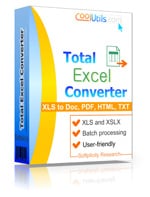 Total Excel Converter
converts ODT spreadsheets to all possible formats:
ODT to Doc
ODT to DocX
ODT to PDF
ODT to HTML
ODT to Access
ODT to ODT
ODT to ODS
ODT to XML
ODT to SQL
ODT to Lotus
ODT to DBF
ODT to TEX
ODT to DIFF
ODT to SYLK
ODT to LaTEX
ODT to TXT
| | |
| --- | --- |
| | |
| (only $49.90) | 30-day trial |