When you surfing through the internet and find some useful articles, you usually save them as HTML pages somewhere on your computer. Without HTML editor you can't edit these texts, change their formatting, etc. It is far more convenient to extract text from HTML and then use it for your purposes. A program that can do this correctly is Total HTML Converter.

HTML code contains a lot of tags, and when you copy text and paste it to the document, very often you paste tags too. Also HTML pages are structured so that you need to copy all the information together with images and banners, that is not very comfortable. To avoid this in HTML extract text separately from all other content using a special converter. It can process HTML pages stored on your computer, converting them to TXT. This plain text format allows storing only text without any formatting tags and images. In TXT huge amounts of data are stored very compactly compared with HTML, so you will save your memory space significantly. Total HTML Converter will help you easily convert HTML to text in batches, processing any number of originals at a heat. All you need to do is a few clicks, including:

Selecting source HTML pages

Selecting conversion mode (conversion to TXT)

Setting path for storing TXT copies

Enabling conversion by pressing Start!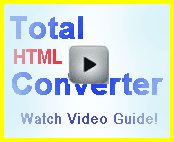 These steps are very easy to do, as Total HTML Converter has very comfortable user interface. Be sure that all text information from your HTML files will be properly exported to TXT without any problems in text coding. TXT copies will be fully readable.
This HTML text converter also features file viewer, so you can easily select required source pages by viewing them right in the program window. Get sure in this by yourself, test Total HTML Converter in free trial version.