| | | |
| --- | --- | --- |
| How To Resize Photos For Emailing | | (only $24.90) |
Modern digital cameras produce high quality photos. However, such photos are very large in size, about 2Mb each. You won't be able to email several photos as attachments. The best solution is to resize the photo preserving good visual quality.
Total Image Converter is the most user-friendly solution to resize digital photos. Launch Total Image Converter. Select the folder with your photos from the file tree (left panel). Then check the photo you want to resize and press Resize button in the upper menu. Each photo can be previewed. Besides, Total Image Converter shows you the info about the selected image (size, width, height, file type, orientation, model, etc.) As you see the original photo is about 2 Mb in size.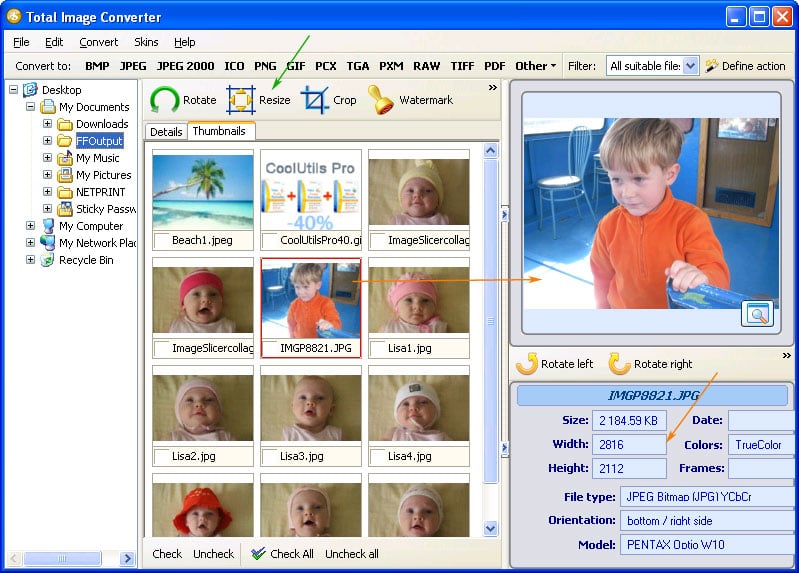 After you press Resize button the wizard of the program appears. Set the destination path. By default the resized image will be placed in the same folder where the original image is. Then go to Resize step. Set the width and height dimensions in pixels. Any photo will be good enough with 500 pixels in width. Press Start!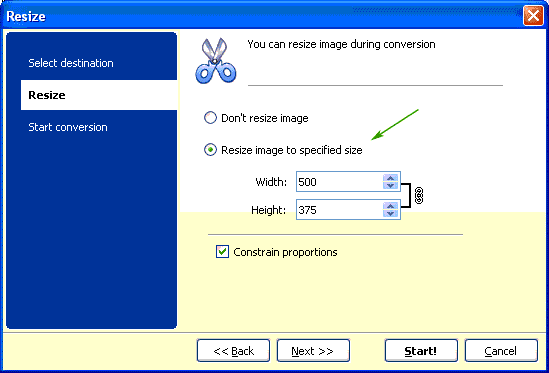 As we see the resized image is placed into the original folder. It's size is less than 40 kb. Now it can be emailed.