| | | |
| --- | --- | --- |
| How To Slice Images | | (only $34.50) |
Image Slicer is a great tool to
slice images to several parts
. It may slice any image to the parts of certain size or a certain number of parts of the same size.
Launch Total Image Slicer. Press Slice button.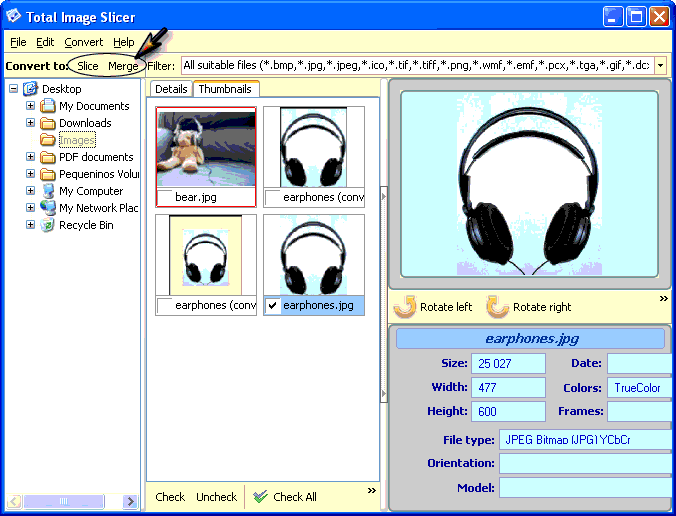 The wizard of the program will help you to set all the parameters.
Image Format. You may select the format for your target document or leave as it is (BMP, JPG, TIF, GIF, PNG, PCX, TGA, PDF).
Select Destination. Select the folder where you want to get your image after the conversion.
Slice. Specify size to slice your image by width and height. These parameters are set in pixels. You may slice your image setting also the number of columns and rows.
File Name Template. Set template to name your newly sliced images.
You may set some additional parameters for certain formats as Color if you set BMP format as output for your file, JPEG Quality for JPG target format, Color Space for TIF, Paper size and Orientation if you want to get PDF output.
Start Conversion. On this page you can see all the parameters before the conversion actually starts. If you want to open destination folder after the conversion select Open Destination Folder after the Conversion. If you want to delete originals after the process select Delete Originals. To process conversion press Start! button.