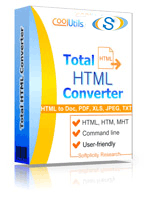 Windows XP/2003/Vista/7/8/10
Interface languages: English, Spanish, German, French, Russian, Dutch, Swedish, Italian, Portuguese, Czech, Japanese, Chinese, Korean
MHT is short for MHTML or MIME HTML, a web page archive format that is used to combine resources in the form of external links with HTML code into one file. This format is very easy to open as it is supported by major web browsers (Microsoft Internet Explorer, Mozilla Firefox, Opera) and even Microsoft Word 2010/2011.
Sometimes users face a need to convert MHT to EMF, a graphics file format on Microsoft Windows systems. Oftentimes, users store hundreds of MHT files, which mean that their conversion will take many hours. This is when people realize that the best way to deal with the problem is download batch MHT converter and convert MHT to EMF in batch.
MHT EMF converter that is guaranteed to fully meet your expectations is Total HTML Converter by CoolUtils. Just like many other programs, this tool is designed to convert MHT and yet has certain advantages. They are:
Batch conversion option

This converter can easily handle hundreds of MHT files at once. All you need to do is select the folder from the tree of folders in the left-hand section of the converter, select the files you wish to convert, set EMF as target format and click on the "Start!" button. Elsewise, you can choose to click on the "Next" button to change default settings.

Functionality

With Total HTML Converter by CoolUtils you will be able to process files saved not only in MHT but also in such formats as HTML and HTM. Also, EMF is not the only target format; supported are such formats as PDF, DOC, XLS, JPEG, TIFF, RTF, and TXT.

User-friendly interface

Total HTML Converter can be mastered by any user, regardless of his or her technical knowledge. The interface of the application is intuitive; also, free how-to articles and on-line help are available on the official website of the developer.
Want to try Total HTML Converter now? Download free trial version from the official website of CoolUtils and use the converter for 30 days at no charge!