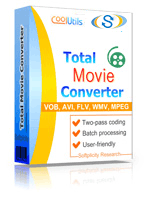 Windows XP/2003/Vista/7/8/10
Total Movie Converter can well be used as an MKV converter, since it supports various video formats and converts MKV to AVI, FLV, MPEG, MPG and WMV. Besides, by aid of the newly introduced video-to-device feature, you can get your MKV files on your phone or portable player. This video converter converts MKV to iPod, iPhone, Apple TV, Archos, Xbox, etc.

Total Movie Converter has an intuitive user interface and a handy wizard. Therefore, it is very convenient for novice users. It does not take hours of practice to MKV files. This FLV converter boasts a number of unique innovative features, such as de-interlace and Video-to-device options.
How to Convert MKV fles
This can be done in three ways:
Via interface
Via the right-button menu
Via command line
Converting MKV files is no great pain. Launch the video converter and select the MKV files, which you would like to. Click on the folder with FLV files in the folder tree on the left and check mark the files.
Select the target format or device using the format bar or Convert menu. The wizard will help you adjust conversion parameters. Set your preferred codec type and select between quality options, audio/video bitrates, frame rates, etc.When you have made your settingū, click Start.
To convert video from the desktop, right-click on an MKV file and select Convert to in the popup menu. Then follow the conversion procedure described above.
Use command line support to convert MKV from within any other utility. This video converter is shareware. You can buy it right now or download the free trial version and use it for 30 days. Please, do not take descriptions on trust. Share your opinion and make your suggestions. Registered users will receive free technical support and regular upgrades.