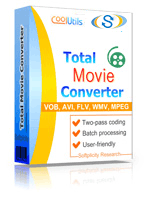 Windows XP/2003/Vista/7/8/10
Total Movie Converter is the fastest and most powerful MPEG converter available. It has a handy and intuitively laid out user interface, so it does not take expertise to learn how to handle it. This program has a number of advanced features, which permit you to convert MPEG to any other format with ease. These features are:
Built-in video player
Video-to-device feature
De-interlace feature
Batch function
Command line support
Youtube and Webvideo grabber
Also, it provides lots of audio/video quality options. The built-in player permits you to preview your vids and check quality. The video-to-device feature will help you get your files on any kind of cell phone or portable device, such as iPhone, iTune, Apple TV, Archos, Creative Zen Video, etc.
How to Convert MPEG
This video converter converts MPEG to MPG, FLV, AVI and WMV. Launch the utility and select the folder with MPEG files stored in it. On the right, there will be a list of MPEG files contained in the folder. Check-mark one or several files or click Check All to have all the files check-marked automatically.

Choose your target format or device in the format bar or Convert menu. Use the wizard to set your destination folder, video codec, audio/video quality, bit rates, sample rates, etc. It takes a little bit of time and experience.

Total Movie Converter integrates into Windows. Once it is downloaded and installed, Convert to option appears in the right-button popup menu. Now you can convert video files right from the desktop. Right-click on a MPEG file and select Convert to. Then follow the standard conversion procedure. If you would like to convert MREG files from within other programs, you can do that with the help of command line support.

Total Movie Converter is shareware. You can download the free trial version and see how it works. Registered users will receive free tech support and upgrades regularly. Please, contact our team and share your opinion with us.