Converting emails to images is a suitable way to represent information for demonstration without ability to edit texts. Total Mail Converter Pro makes a big help - it can convert mail to JPEG with attachments and create JPEG copies of attached documents and graphics. You will extract all the information from your mail history and store it locally in the format you like.
This is a great helper for various email conversions. Any MSG or EML file stored in your computer can be exported to various formats. This mail converter offers these target formats:
JPEG
RTF
TIFF
HTML
PDF
DOC
And you can change EML to MSG or vice versa. Each format has its own parameters, and you can adjust them all in the built-in settings manager. It appears automatically after you select a target format.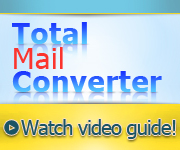 With this program you are able to convert mail with attached files or without them, rendering just the message with major fields like subject, recipient, etc. Attachments can be processed in different ways. For instance, attached image can be either inserted into result JPEG email copy, stored separately to a folder in native format or converted to JPEG and saved as a separate file. You can also convert attachments of other type such as messages or documents. The other file types can be saved to a folder.
As JPEG is an image type, you can set paper size. This way you will adjust converted JPEG copies for printout and viewing. Using this flexible email converter you can export some email fields to JPEG without the rest. By default the program converts entire email file to JPEG.
You can use Total Mail Converter Pro and standard Total Mail Converter on one computer, the programs do not replace each other. Download Pro version here for proper attachment processing.