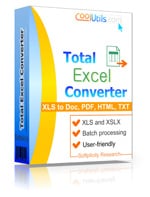 XLSX is a very specific format supported only by MS Excel 2007 and higher and a few open source alternatives. When sharing corporate information in XLSX format, there is a big risk that a recipient would be unable to view it because of the lack of compatible software. PDF is much more common for viewing data, there are a lot of free PDF viewers, and the files of this format can be viewed even via web browsers. For sharing the information it is suitable to merge several XLSX to one PDF file. You can do this easily, having Total Excel Converter on hand.

The utility can not only convert XLS to PDF, but also combine a few XLS docs to a single PDF file, creating a handy data copy that is protected from any editing. It is a great solution for backup storage or sharing for viewing. The process of combining files is very similar to converting them to PDF, with one addition. In order to combine XLSX into PDF, you need to checkmark the option of the same name in the settings manager. This is done easily. You will need to:
Open the program window
Find your XLSX sources and check them off in the list
Press 'PDF' button
Go to 'Destination' section of the settings manager
Check off the item 'Combine...'
Click 'Start!'
In addition you can adjust paper settings to merge XLSX to PDF file of the proper paper format. All the data from tables will be properly divided into PDF pages of the document. The program automatically opens the destination folder after the combining process is finished, so you can check the results quickly. Additionally, there is an inbuilt file viewer.
You can check the advantages of Total Excel Converter by yourself, just download the free trial package and use it for 30 days.
Interface languages: English, Spanish, German, French, Italian, Dutch, Danish, Russian, Korean, Japanese.
Windows XP/2003/Vista/7/8/10