| | | |
| --- | --- | --- |
| Professional ORF Converter | | (only $24.90) |
Total Image Converter is an exceptionally handy tool for web designers and photographers. By aid of this utility, you can convert ORF files to JPEG, TIFF, BMP, etc. It supports so many different formats that you do not have to download many converters. Total Image Converter handles scores of ORF files in a matter of seconds.
ORF is a digital RAW format used in Olympus digital cameras. These files contain unprocessed image data and metadata necessary to make a digital image. For this reason, they are often termed 'digital negatives'. ORF files feature so called 'headers' that represent basic image characteristics, which include color, shade, contrast, saturation, etc. The biggest advantage of ORF files is an opportunity for a photographer to conduct manual processing, and hence the broad image quality choice. At the same time, ORF files are much bigger than JPEG or TIFF and are only supported by Olympus digital cameras.
How To Convert ORF Files?
Total Image Converter is but the only conversion tool that deals with nearly all RAW file formats. It is invaluable for Olympus camera users, because it converts ORF files to any standard format.
It does not take a lot of experience or special knowledge to handle Total Image Converter. All it takes is just a brief look at the interface. If you are not sure about settings, you can accept the default settings offered by the Wizard.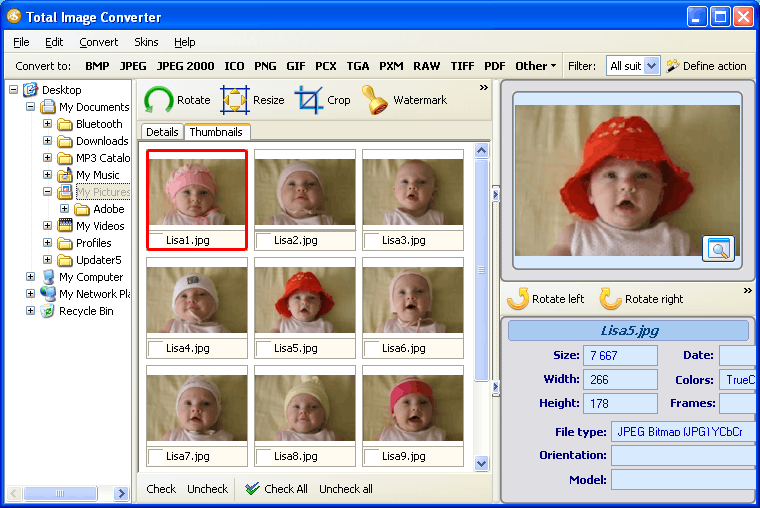 Total Image Converter integrates into the standard right-button popup menu. Once it is installed on your PC, the Convert to option appears in the menu. This permits you to convert ORF files right from the desktop, without launching the program. You can also operate the ORF Converter from within other programs via command line. The program features batch conversion mode, so you can render all your ORF files in your desired format in split seconds.
The built-in image viewer allows you to preview your files to be converted. You can view your ORF image and see what it is going to look like in the target format. With Total Image Converter, you can resize, crop and rotate your images.
To ensure the quality of the product, please, download the trial version and use it for 30 days. You can convert thousands of ORF files over this period. If you feel like you cannot do without Total Image Converter any more, purchase the license version right now!