Outlook is a great solution if you are interested in checking and managing your email, but it does come with its own set of downsides. Not only does it lack the ability to save its content to various formats, but sometimes it can also be quite daunting and challenging to use. That's where Coolutils Outlook Plugin comes into play.
What is the Coolutils Outlook Plugin and how does it work?
The Coolutils Outlook Plugin is a plugin for Outlook that wants to address one of the main problems with this platform. At its core, this solution is an integrated email converter. What it does is it seamlessly integrates into your email solution and it enables you to convert your emails to various formats.
Up until this point, if you wanted to share email content you had to do copy and paste into another document. Not only is this unprofessional, but it does come with many mishaps. Coolutils Outlook Plugin makes the process a lot easier and simpler.
What formats can it save your email into?
During my tests, I was able to save the email into EML, JPEG, TIFF, XHTML, HTML, PDF and TXT. Out of all these options, I believe that PDF and JPEG might be the most common although saving to HTML can also come in handy. I particularly liked the fact that they added this plugin into the Outlook interface, so you just need 2 clicks in order to select the option. You can feel free to archive the emails in any way you want and you will also enjoy the fact that you can give new names with macros if you want. They also added a great feature here that enables you to add page counters, logo and you can even modify the margins or fonts too, which I found to be very helpful and convenient.
How well does it work?
During my tests, I found Coolutils Outlook Plugin to work seamlessly. I converted to all the aforementioned formats at least 4 times each and each time I got flawless results. Not only is the Coolutils Outlook Plugin efficient, but the speed is very fast too. Batch email conversion is a possibility, but based on my experience it's a lot better if you process the emails one by one.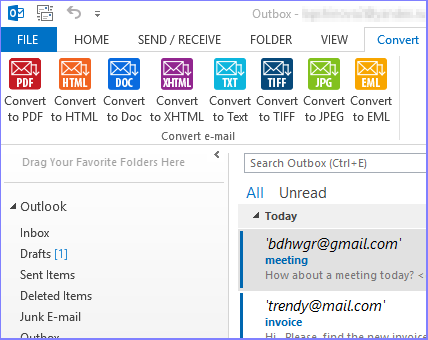 Although Coolutils Outlook Plugin is a third party solution, it does a very good job at integrating with Outlook. It works with every version, even 2016, and it manages to deliver an outstanding experience due to that reason alone. Not only is this a professional solution, but the quality is quite impressive.
Plus, you can share all the email content in a very simple fashion, without the need of any extra investment. The price of $25 is more than justified for personal use and I believe that regular customers will also enjoy the features delivered here. Overall, the value is more than impressive and at this price point it's more than justified! I recommend everyone to give the Coolutils Outlook Plugin a shot if you need any type of email saving feature in Outlook. It delivers on its promise and it works amazingly well. Just check it out, you will not regret it!