A format that is perfectly suitable for email archiving is PDF/A. This type of PDF format was specifically developed for digital preservation of important data. With the help of Total WebMail Converter you can export emails from www.Outlook.com to PDF/A files. These files will be stored on a hard drive or portable memory card, being always available for reading and sharing.
Local mail copies give access to mail history while there is no Internet connection or even when the mail server is damaged. Updating local mail backup copies regularly will help to secure all your correspondence from loss. Total WebMail Converter allows converting messages in a standard PDF too, alongside with other formats like Doc, RTF, JPEG, etc.

Here is how to save emails from Outlook.com as PDF/A files:

Open the converter and connect it to your Outlook.com mailbox;

Using navigation inside the program select the source messages (all together);

Click on the PDF icon on top;

In the popped up settings manager go to Document -> Properties and check PDF/A option;

Make other settings, if you need;

Press Start!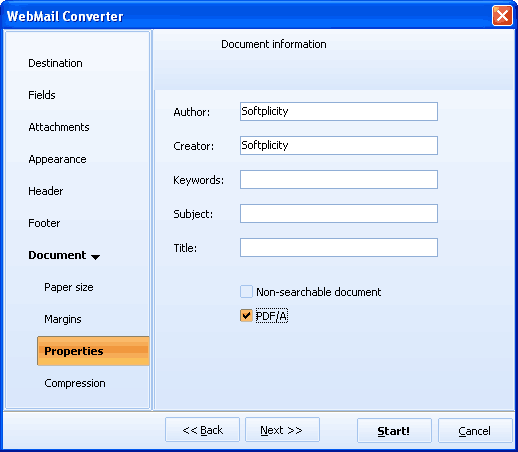 In the settings wizard there are a lot of parameters you can adjust. For example, it's possible to exclude some mail fields from PDF/A copies. You can convert Outlook.com emails into one PDF/A file. Due to a multi-page structure, a file of this type comfortably combines info from different sources. Attached messages are also convertible to PDF/A, as well as attached images.
You can add any information into header and footer of desired PDF/A documents. This option is very convenient for bates numbering widely used in commercial or judicial docflow. This email converter can adjust PDF/A copies for specific layout and page format. Support for batch conversion makes it easy to apply the same formatting for multiple emails.