DXF (short for Drawing Exchange Format) is the CAD format of AutoCAD developed by Autodesk. It is widely used by everybody working with AutoCAD program as it is compatible with all popular CAD systems. But sometimes you need to edit PDF files in CAD programs. Here comes Total PDF to DXF Converter - the easiest way to convert PDF to DXF.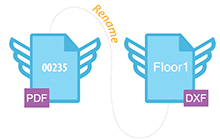 The advantage of Total PDF to DXF Converter is the built-in renamer. You can convert you rfiles and give them new descriptive names in one go.
Total PDF to DXF Converter is very easy-to-use. You select the PDF file (or files) and press Convert to DXF button. Note that Total PDF to DXF Converter can convert huge folders of PDF files to DXF keeping forlder structure. It's important if you have to convert dozens of folders with PDF files. The output DXF files will replicate the folder structure of the originals.
When you convert a multi-page PDF file you get several DXF files. Our program will suggest you a handy renaming feature of the output .dxf documents. Every .dxf page renamed during conversion according to this template [Name].page#.dxf Thus you always know what .dxf file is from waht .pdf document.
Total PDF to DXF Converter is fast and easy-to-use. It requires no skills or technical knowledge to convert PDF to DXF. The program can be run via both easy-to-follow user inteface and command line. Besides, Total PDF to DXF Converer intergates into Windows popup menu and you can convert .dxf file ritgh from your desktop.
Total PDF to DXF Converter costs $129.90. It's a one-time fee. All registered users get all the upgrades (including major ones) for free. Prior tech support is also free. No hidden costs!
Being developers not resellers we guarantee the quality of our converter. Besides, we can customize the converter to your particular needs. Minor customization is free to registered users.
Windows 2000/2003/Vista/7/8/10