| | | |
| --- | --- | --- |
| PNG to Icon | | (only $12.50) |
How to find a good PNG to icon converter? There are several important things to pay attention to. First, the software should be reliable. Nobody wants to pay for the tool that does not work. It should support all PNG files produced by different programs not to let you down. And it should be easy-to-use. And the price should be affordable.
Any developer that is proud of his software allows user trying it before the purchase. Buying a program without testing it you buy a cat in a poke. CoolUtils team is confident about the quality of our solutions. That's why we always offer user free trial copies of Image2Ico.
Image2Ico is a perfect solution to convert PNG to icon. It supports all PNG files. Image2Ico creates icons of all formats:
16x16
24x24
32x32
48x48
64x64
72x72
96x96
128x128
Whatever icon you need Image2Ico provides you with that in one click! Image2Ico is very affordable. The price is as low as $12.50. Keep in mind that it is not only a powerful png to ico converter but also a gif to ico, bmp to ico, tiff to ico converts. It can actually create icons of all most popular image formats.
How to convert PNG to ICO with Image2Ico
Image2Ico from CoolUtils is very easy-to-use. You select the image and it is automatically converted to ico. Image2Ico creates any icons: from 16x16 to 128x128. You immediately see how the icon looks like. You select the necessary size and save it to your folder.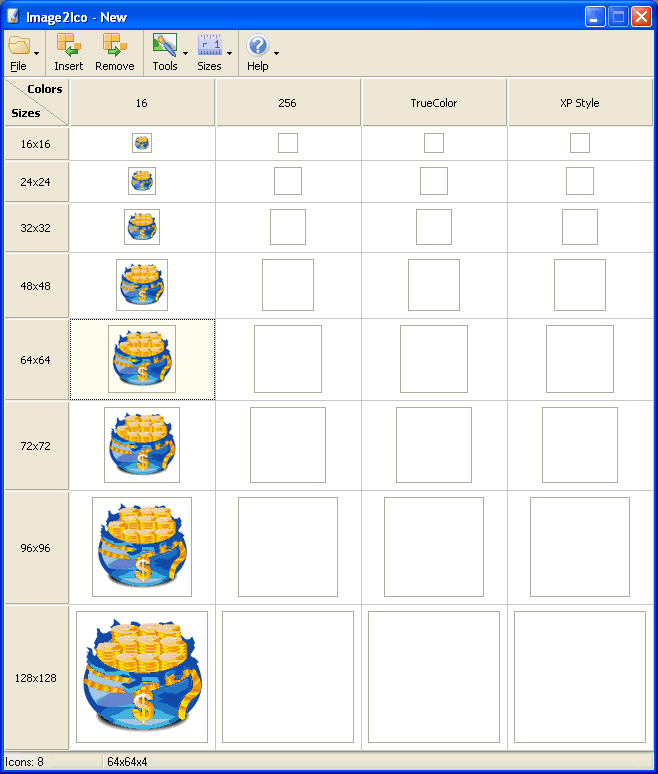 Now you know why so many web designers and developers like Image2Ico. Take your chance now and create icons out of your PNG files in one click!