If you have purchased Total PDF Converter, you have, knowingly or unknowingly, solved a lot of problems. This is the case if you have to deal with graphic files on a regular basis. This converter supports a variety of formats. For instance, if you need to make the content of your PS files more readable, this tool will help you convert PS files to JPEG.
JPEG is one of the most popular compression formats, because it is platform independent. Many users prefer to save photographs, screenshots and other types of images in JPEG, because JPEG files are compact in size and can be shared online easily. This format is supported by all more or less known converters. However, few converters feature PS support. This is one of Total PDF Converter's greatest advantages.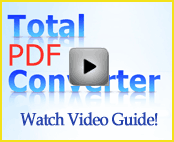 The program has a handy interface laid out in such a way as to pose zero trouble for novice users. In order to convert PS to JPEG, you should:

navigate the file tree and select the folder with PS files in it. Check the files that you wish to convert in the main panel. Use the batch function to convert a large number of files in one go.

Click 'Check All' button to check-mark all the files in the list. This function is one of the latest and most desirable additions, which few converters can boast.

When all the PS files are selected, choose JPEG in the format menu or format bar.

The wizard will offer you an array of options, which should help you achieve your preferred image quality. Here you can set the destination folder and save your images in your preferred location, so that you are not going to have spend much time looking for them.

When all the settings are specified, click 'Start' button.
Total PDF Converter features command line option, due to which it can be run from within other applications. Also, the program integrates into the OS, so you can right-click on a file on the desktop, select 'Convert' to and follow the procedure.
If you feel confused about your PS files and have too many of them, consider purchasing Total PDF Converter. Download and use the free 30-day trial version. When the trial period expires, you can register it and receive regular upgrades and technical support on a regular basis.