PS, or Post Script, is a dynamically typed concatenative programming language mainly used by publishers, corporations, and government agencies. Files of this type can only be viewed with the help of Adobe software, which is known to be very expensive. For example, the programs that can open PS files are priced as follows: Adobe Illustrator CS5 – at $599, Adobe Acrobat X Pro – at $449, Adobe Photoshop CS5 – at $699, and Adobe Photoshop Elements – at $99.
PCL, or Printer Command Language, is a page description language developed by Hewlett-Packard as a printer protocol. It is considered an industry standard. Files saved in this format can be viewed in OpenPCL Viewer, PageTech PCL Reader, RedTitan Technology EscapeE, eLynx SwiftView Viewer, PageTech PCL Works, and PageTech PCLTool SDK. If you have any of these, you will definitely find it beneficial to convert post script to PCL.
The best and most efficient way to convert PS to PCL in batch is use a special tool known as batch PS converter. There are plenty of conversion tools online, but we recommend you try our Total PDF Converter. It has many advantages over the similar programs, but the most important of them is batch conversion option. With its help you will be able to process documents in batch, thus dealing with the work much faster!
All you need to do is to download PS PCL converter by CoolUtils.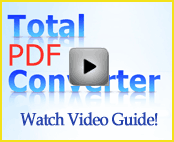 After that:
Install the program following the instructions of the wizard – it is easy and takes no longer than a couple of minutes
Open the program – that's the easiest part, all you need to do is to double-click on the icon
Select the PS documents that have to be converted – a list of files and folders is generated automatically
Set PCL as target format – all you need to do is click on the button that says "PCL"
Click the "Start!" button to begin conversion
If one day you face a need to convert files other than PS into formats other than PCL, you will be glad to find out that Total PDF Converter is capable of processing EPS, PDF and PRN files into HTML, DOC, TXT, XLS, CSV, TIFF and other formats.