Nowadays, PS is almost on a par with PDF in terms of popularity. Originally designed as a page description format to be used in publishing, today it is used as a distribution format almost as widely as PDF. Besides, PS is barely second to PDF in functionality. Converting a written document to PS is even easier and less expensive than to PDF. All it takes is some Windows-based printing utility. For example, if you have Netscape or Internet Explorer, you can convert HTML to PS; if you have MSWord, you can easily render .doc in PS. Total PDF Converter is a versatile tool, by aid of which you can convert PS to TIFF.
Apart from PS, Total PDF Converter converts from PDF, EPI, EPS and PRN to TIFF and other popular formats. Once you run the utility, you will be able to see all the target formats supported by it. They are located in the top bar and in the Convert menu.
If you have a multi-page PS document, which you would like to convert to TIFF or any other image format supported by the utility, the program will help you. These formats are much handier than PS, because they are usually platform independent and do not require additional installations. TIFF files are easy to transmit online and they are viewer-compatible.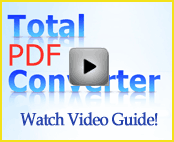 To convert PS to TIFF, navigate through the folder tree and select the folder with PS files. Check the files, which you are going to convert to TIFF, and select TIFF in the format bar or Convert menu. The wizard will give you a broad selection of settings, which include destination folder, conversion mode, compression patterns, resolution options, etc. All these parameters affect image quality. If you are uncertain or you have no experience with the settings, skip it.
If you would like to save it as one file, use the 'Every Page into Separate File' option in the 'Multipage TIFF' inlay. Click 'Start' to convert.
It's going to be pretty much of a surprise for you to see how quick this tool is. In fact, it takes a few simple actions to get the whole job done. It is available online, so you can purchase it any time or download the free trial version and use it for 30 days.