If you have to deal with PS files, you will find out that the only programs compatible with this format are developed by Adobe and, thus, are really expensive. For instance, Adobe Illustrator CS5 is priced at $599, Adobe Acrobat X Pro – at $449, Adobe Photoshop CS5 – at $699, and Adobe Photoshop Elements – at $99. However, you can avoid these expenses by simply converting Post Script to WMF, or Windows Metafile, a graphics file format on Microsoft Windows systems that contains both, vector graphics and bitmap components.
You will find it easy to convert PS to WMF in batch with the help of a special tool known as batch PS converter.
We strongly recommend you try Total PDF Converter, a unique tool designed by CoolUtils, a software development company with more than 10-year experience in design of converters. With the help of this program, you will find it very easy to convert files from PS, a dynamically typed concatenative programming language mainly used by publishers, corporations, and government agencies, into WMF, a graphics format.
When you download PS WMF converter by CoolUtils, you will be glad to see that it features batch conversion option – something that many other converters lack. This option gives you a chance to process documents in batch, thus saving you lots of time!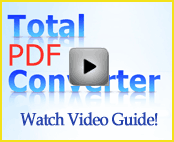 Here are the 6 simple steps you need to make to convert PS documents into WMF with Total PDF Converter:
Download Total PDF Converter – it is free and takes only a few seconds
Install Total PDF Converter – it is easy and takes no longer than a couple of minutes
Open Total PDF Converter – that's the most simple part, just double-click on the icon
Select the PS files for conversion – a list of files and folders is generated automatically
Set WMF as target format – simply click on the corresponding button
Click the "Start!" button to begin conversion – that's the best part, it's all automatic!
CoolUtils guarantees that the process of PS-WMF conversion will be quick and trouble-free.
With the help of Total PDF Converter, you can also process files saved in formats other than PS into formats other than WMF, should you face such a need. CoolUtils' tool is perfectly suited to process files in EPS, PDF and PRN into GIF as well as HTML, DOC, TXT, XLS, CSV, TIFF and more.