PCX is a slightly outdated file format native for PC Paintbrush used to store palette-indexed images ranging from 2 or 4 colors to 16 and 256 colors. Lately, it has been succeeded by more progressive formats, such as GIF and JPEG. Some photographers and graphic designers, however, still use PCX format. When it comes to exporting RAW into PCX format, professional users prefer high-quality software. CoolUtils' Total Image Converter is one of the programs that are highly valued by computer users who need to convert RAW and other rare file formats.
With the help of this tool you'll be able to:

Convert RAW into PCX and many other formats. They include JPG, GIF, BMP, PCX, PNG, TIFF, and many rare formats.

Transform output files. Convert, rotate and crop images, adjust color scheme and much more.

And, most importantly, convert RAW to PCX in batch.
You do not need to have special technical knowledge to use RAW photo converter by CoolUtils. A couple of simple steps, and the conversion process is complete! Here's what you need to do to use RAW PCX converter to its fullest potential:
Download image converter and install it as usual (remember to select the correct interface language!)

Launch the converter via user interface (recommended for beginning users) or command line (recommended for advanced users)
Select the RAW images that you want to export into PCX and set the target format. To do it, click on the 'PCX' button. Thanks to batch mode, you can select over a hundred of RAW files for conversion.
Adjust the default settings (transform the image, change color scheme or destination folder and more)
Click 'Start!', sit back and relax!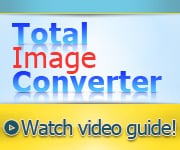 To check out Total Image Converter, download a trial version of the program today!