Here at CoolUtils we're always creating new tools to assist with your computing needs including email conversion support. So when Mozilla released its SeaMonkey open-source application suite, we designed an exciting conversion utility to accompany it. The Total Thunderbird Converter Pro SeaMonkey Converter puts you into the driver's seat by offering total control over your email client. With tons of cool customization options, support for attachment conversion, and direct command line access - we know you'll love our Mozilla email converter!
Whether you're looking to save inbox space by archiving old emails or you need to convert them to a different format for use with specific software we can help. Get started today and convert emails from Mozilla SeaMonkey account with attachments included. Worried something might be lost in the conversion? Don't be. That's one of the many benefits to using the program designed by a company with over eleven years experience designing apps of this nature. We don't just protect your data; we help make your target documents even cooler than the originals!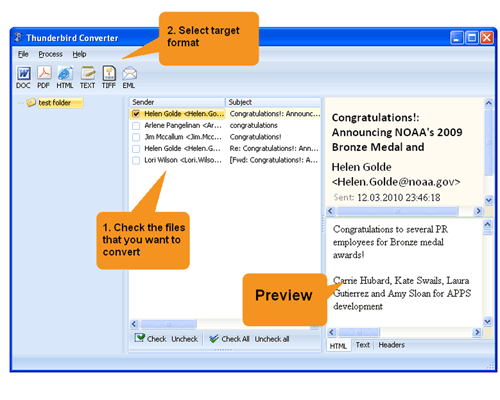 This is made possible by the variety of customization choices included with the SeaMonkey converter. Our user-friendly interface provides options that both beginners and advanced users will find appealing. Want to work through the command line? No problem. Prefer to stick with the GUI and let a BAT file automate the work for you? You got it. We've also built in a bunch of fun stuff that lets you determine the functionality and layout of your documents.

Custom page layouts (paper orientation, margins, fit to page).

Document pagination (dates, time stamps).

Export selected fields only (sender, recipient, date, subject, body).

Rename attachments (organize and associate with parent email).

Unique headers and footers (positioning, font style, page numeration).
Sure, there are other converters out there but none of them even come close to providing you with the utility and flexibility of the Total Thunderbird Converter Pro. With support in 13 different languages, and conversion solutions for DOC, HTML, PDF, Excel, TIFF, TXT (and more) download our free trial version today and experience firsthand what an amazingly powerful tool it is!