| | | |
| --- | --- | --- |
| Convert TIFF to BMP in Batch | | (only $24.90) |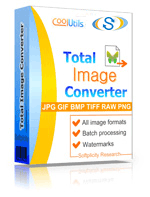 BMP is a native Windows graphic format that now is widely popular, regardless of its big size. A lot of users convert TIFF into BMP for many reasons. One of them is incompatibility of TIFF format dialects with standard image viewers or editors. Turning them to BMP solves this problem: BMP files are compatible with standard Windows applications and all major image processing programs. Exporting TIFF images to BMP is easy with Total Image Converter.
This utility solves another big problem of image conversion. Very often users need to process tens or hundreds of files, if these are photos or some design patterns. It is completely inconvenient to process the files one by one, as sometimes this process takes hours. That is why Total Image Converter offers to convert TIFF to BMP in batch. Using the program in this way, you combine all images for conversion into one packet, make all required settings once for all files and convert them at once. This is far more efficient alternative for repeating the same actions for each file separately.
The advantages of TIFF BMP converter also include:
Fully automatic conversion process
High conversion speed
Significant saving of time on multiple conversions
Ability to adjust converted files to one format
Handy interface with built-in image viewer and editor
On the left side of the converter's window you will see a folder tree. If you need to convert files located in 'Documents' folder, for example, you should find it in the folder tree and click on it once by left mouse button. The list of images it contains will be shown in the central section. You can switch to thumbnails or details mode. Just select all TIFF files you need to convert and click BMP on the top format bar. Press 'Start!' button and get the files converted.
This simple but powerful TIFF converter is waiting for you here!
Interface languages: English, Spanish, German, French, Russian, Japanese.

Win 2000/NT/XP/2003/Vista/7