There is no more compact format for email backup storage then TXT. It allows storing only text information without any formatting. That is why it is perfect for backup copying, as it requires minimum memory space and can store large volumes of information. You can easily convert Thunderbird emails with attachments using Total Thunderbird Converter Pro. This program has very handy interface, so all its features can be easily and quickly handled.
As TXT format implies no formatting, minimum options are provided for this type of conversion. This is batch Thunderbird converter that means you can convert lots of emails to TXT within one command. For proper copies ordering you can set a file name template that consist of some email fields' values like message ID, title or date. Don't worry about prefixes that are often appear in message titles (like RE:, FWD, etc.). The program can automatically remove it.

The whole process of converting Thunderbird to TXT with attached files is very simple. You need to:
Connect Total Thunderbird Converter Pro to your Thunderbird account
Select emails for converting
Press TXT button
Set options for conversion
Press 'Start!'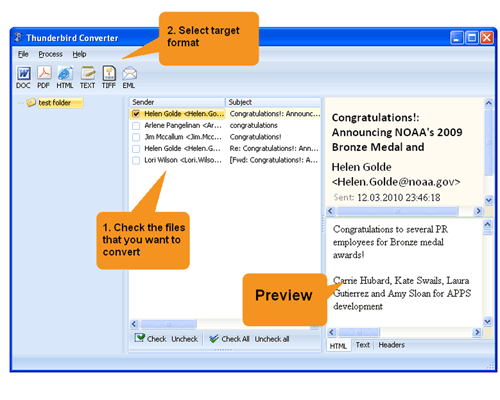 Don't forget to set options for attachments processing. Choose either saving attachments to separate folder or converting them to TXT. The program differentiates attached messages from other types of files and can process them separately. If your source emails contain attached messages, they can also be converted to TXT. Also you can convert Thunderbird to TXT with default settings, not changing any parameters. Usually attachments' conversion is set by default. If you require converting only email body and some other specific fields, uncheck unnecessary fields in settings, and Total Thunderbird Converter Pro will convert only those that left checked.
All these features can be tested for free in the trial version of converter. Get it now!