Total Thunderbird Converter Pro is a highly useful addition to Mozilla Thunderbird for converting emails to numerous formats. In particular, it is able export Thunderbird Emails With attachments to TIFF format! Depending on their type, attached files can be converted, merged with converted TIFF mail copy or saved in original format to predefined folder. Moreover, Total Thunderbird Converter Pro features fully adjustable formatting that lets you create TIFF copies in specific resolution, color interpretation and compression.
Total Thunderbird Converter Pro synchronizes with user's Thunderbird account, showing all mailboxes inside its own navi tab. There you can select messages that will be exported to TIFF format. Considering that this is a batch Thunderbird email converter, it is possible to convert any number of messages at once. This saves time by setting parameters for the entire batch instead of each mail separately.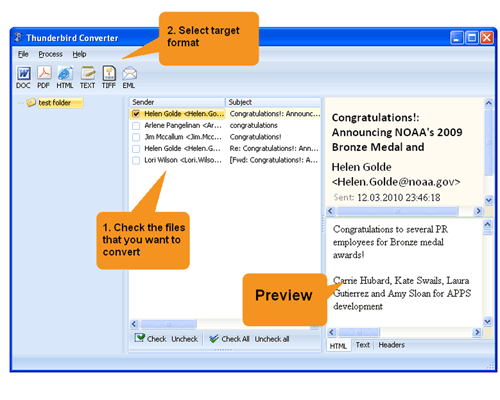 You can adjust the following:

Select email fields that will be exported to TIFF

Choose conversion mode (combine all mails to one TIFF or convert separately)

Define attachments processing options

Setup header and footer

Make TIFF specific settings like colors, compression, paper format, etc.

Set file name template.
Using fields selector you can skip the fields that contain unimportant information (dates, subjects, copy to, etc.). TIFF copies will feature only the data you need. File name template is highly useful, when you need to export emails from Thunderbird to TIFF in batch. Converted copies will be properly sorted in the storage. Adjustable layout helps to produce copies ready for use without any post-editing. This way you can adapt TIFF copies for printing or sharing, automatically applying required format parameters.
Total Thunderbird Converter Pro can save, convert attached files, as well as extract them from mail client to a folder. This feature is available only in Pro version. You can get it here.