The best way to generate a backup of Thunderbird emails is their conversion to TXT. Such feature becomes available with Total Thunderbird Converter Pro that can export emails from Thunderbird to text together with attachments. This way it creates the full backup of all data stored in your mail client. You can convert either all or specific fields of emails.
As you see, processing messages in Total Thunderbird Converter Pro is one of the easiest things in the world. To process all required messages it will take you only a few minutes. This is a batch mail converter with a lot of conversion modes and adjustable settings. When you export Thunderbird emails with attachments to TXT format, the following options are available:

Ability to merge all source emails to one TXT file

Selecting specific mail fields for conversion

Use file name template for automatic renaming of TXT copies

Converting attachments to TXT.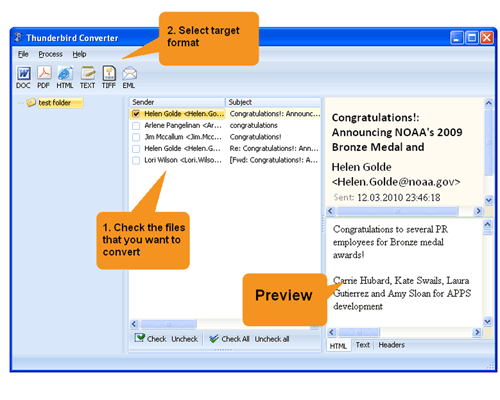 Total Thunderbird Converter Pro makes it possible to extract attachments together with email text. Attached messages and text documents can be converted to TXT too, while other types of attached files can be extracted from Thunderbird to a folder. For other formats that support images, attached graphics can be included into a converted mail copy, but TXT does not support such type of content.
The program automatically shows you all mailboxes connected to your Thunderbird client. You can view emails directly inside. Export to TXT is not the only feature provided by this Thunderbird mail converter. You can also export emails to PDF, JPEG, DOC, TIFF and EML. The program also works from the command line. In this mode there is no to run the converter's graphic interface. A command will automatically call the application and perform conversion.
Total Thunderbird Converter Pro is the only program that can export emails together with attachments in batch. Get it here.