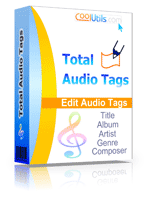 Total Audio Tags gives you full power on your music collection. Now you can view and edit audio tags as you like.
What are audio tags?
Each music file has some info about it (like title, artist, album, etc.). This info is saved in a tag. Most people are not aware of the fact that their track Moonlight.mp3 does not only contain actual music but also lots of info describing this song.
How can I benefit by audio tags?
Audio tag is a powerful tool to put your music collection in order. When each track has a rich audio tag you may sort the whole collection by numerous criteria. For example, create folders with the tracks by one artist or of the same genre.

If you make your own music you naturally want to upload it to myspace.com or mp3.com. Total Audio Tags will add your lyrics or the link to your web site to the tag. So everyone will know about you reading the tag.
How does it work?
Total Audio Tags allows you to edit these tags: title, artist, album, track, year, genre, composer, copyright, encoder, language. If you want your songs to have also right technical info, use tags File Size, Duration, Bitrate, Sample Rate, Channels.

Total Audio Tags handles both MP3 and WMA tags. All you have to do is to click the file you need and press Edit button in the program. You will see the window with all the current tag information. If you wan to edit it simply type in the right words into the fields and press Save.

Use the tool to export tag information to CSV, HTML, XML, TXT to have full report of what you have.

Once your tracks have the right tags Total Audio Tags will also help you to rename the songs. There are few predifined templates that make the process so easy. For example you can rename your tracks according to Artist - Album - Year template or Track - Artist template. You can also create custom template with Total Audio Tags.

Total Audio Tags is a handy easy-to-use utility that give you great power on your music collection. Download it now for free (30 day trial) and use it.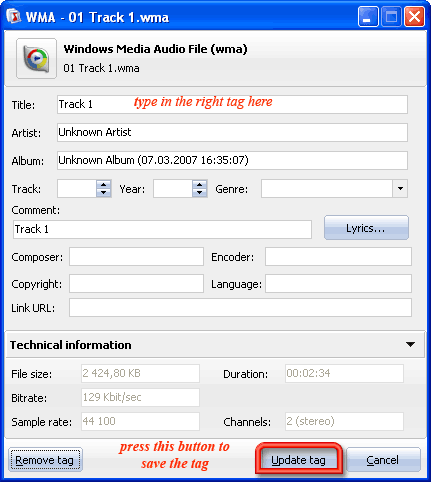 Total Audio Tags helped me a lot with my collection of songs. I just saved every song I liked to my hard drive and in a few years it became an impossible mess. Your tool helped me to edit tags and sort the whole thing out. Thanks!
Paul Shefren