If you need to extract messages from Unix mail storage file in MBox format, there is no better solution than Total Thunderbird Converter. MBox format is used in Mozilla Thunderbird for storing e-mails locally. Having MBox file from your Unix system allows you extracting messages from it using this handy utility.
This functional email converter provides efficient features that help to export emails correctly to various formats. You can choose between these conversion modes:
Simply switch MBox file to the program, and you will see its content in structured folders, exactly as in your mailbox. Here you can convert Unix mailbox by parts, choosing separate messages, or convert all inbox in one batch. The procedure is the same regardless of the target format and number of files in batch:
Upload the MBox file to the converter
Check off the messages for conversion in the navigation section
Select target format
Make necessary settings
Press Start! button.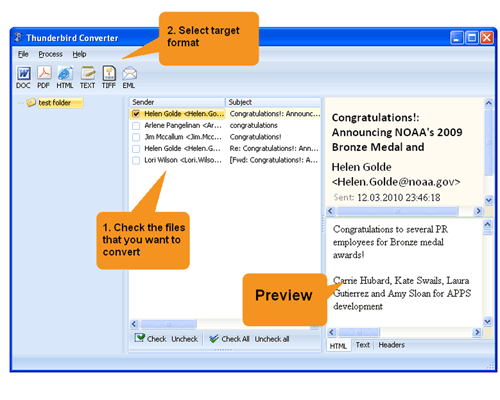 Adjustable settings make it possible to convert Thunderbird emails with specific formatting, save attachments, adjust header and footer content and do many other useful enhancements. Settings list differs depending on the chosen format. For instance, if you convert emails to TIFF, you can compress the output files to save memory space. If it is PDF, you can set specific PDF properties and secure document with the help of digital signature.
All these features are packed in easy and flexible interface that helps users to save maximum of time on conversions. You don't need to do any extra actions except those that are useful for the best result. Use only the options you require, skip the rest, and get the files converted exactly as you need.
Try Total Thunderbird Converter right now, converting your MBox storage for free!