| | | |
| --- | --- | --- |
| Video To Zune | | (only $29.90) |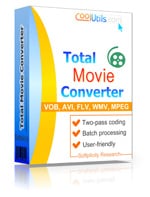 Zune is promoted by Microsoft as the main competitor of iPod. Today 10% of all 30 Gb players sold in the world are Zune players.
Zune can play video files of WMV, MPEG-4, and H.264 formats. Unfortunately it doesn't support many other codecs. What if you have a video file in DivX or Xvid? Total Movie Converter will help you acting as a handy Zune converter. Sure you may use any other video converter and convert your video to the formats Zune supports. But you need to know all the characteristics like bitrate or frequancy. Total Movie Converter has Video-to-Device option that will convert your video to Zune not asking you for additional info.
You select the file or files and press Convert to Zune button. That's it. Very easy-to-use solution for Zune owners. Download your free evaluation copy of Total Movie Converter and try.
Note that Total Movie Converter is all-in-one video converter. It supports AVI, MPG, WMV, MPEG, FLI and many other video formats. It can also convert video to iPod, video to iPhone, video to XBox, video to PS3.