Renaming Files In Batch With Neat Results
Renaming files can be a nightmare when you have thousands of them. Luckily there are many renaming programs that automate the task. They allow renaming files in batches by standard operations (LowerCase, Upper, Capitalize, Replace, Insert, Delete and Counter). But what all of them miss is the option to generate a log file in csv format each time a rename is performed.
Visual Renamer by CoolUtils is a powerful batch renamer that can do almost every renaming task. And it can generate the log file so that you can save a record of your renaming task and import it into Excel and Access. By one click you can save this log file in CSV format.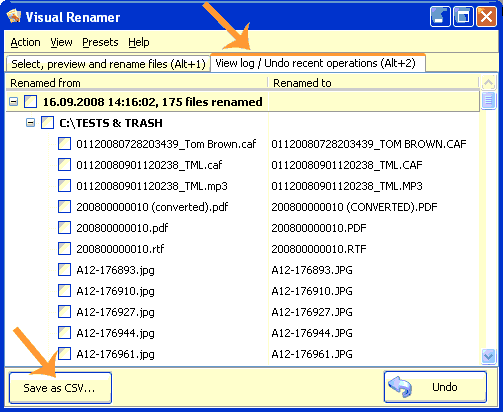 Visual Renamer will not only rename thousands of your files but also create a csv file in neat column format for you. To get the advantage of this unique feature download your free trial version now.
"The program is a lifesaver. It saves me renaming literally thousands of files to a format I created with relative ease. It took me 15 minutes to get it running and I am excited about it." Ches