Total Audio Converter appears to be one of the best audio conversion utilities to convert WMA to APE in batch with. It is absolutely user friendly and versatile enough to convert to and from almost all popular audio formats. This converter keeps pace with the time, since new features are added as long as software tools get more sophisticated. For example, the YouTube feature has been incorporated just recently. Now you can convert YouTube vids to any format. This WMA APE converter works really fast, so you can convert both single tracks and whole albums.

How to Convert WMA to APE in Batch
Batch function enables you to not only convert single tracks, but entire albums as well. The only difference is that you should use the 'Check All' button when specifying tracks to be converted to APE.
In the file tree, click on the folder with your WMA tracks and view the list of WMA files. To convert separate files, mouse over the checkboxes and tick them by left-clicking on them. To batch-convert, press the 'Check All' button below. All the tracks will be ticked.
In the toolbar above, select APE. You can also choose the target format via Convert menu. Set your preferred conversion parameters using the program wizard. Set the destination folder. Press 'Start!' to convert. When all your tracks are converted, the program will open the destination folder automatically.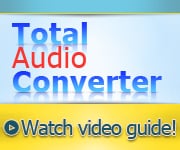 This converter has a built-in player, so that you can listen to your tracks and estimate quality prior to conversion.
It is possible to convert WMA to APE from the desktop. Just open the folder with WMA files and right-click on one or a folded containing several ones. Then follow the standard procedure.
Command line option allows you to convert tracks from within other programs.
This WMA APE converter is available any time. In order to check it, open the official website and click the 'Download' button. Thus you will download the demo version, which is valid for 30 days.