WMA is a popular music format compatible with most media players. However, this format is not so widely supported by playback devices. For instances, Apple products that have become really popular these days, do not play WMA files. But there is a quick and easy way to resolve this problem.
The solution is a high-quality WMA MP4 converter. CoolUtils - a specialized software development company - is pleased to present Total Audio Converter. This is a batch audio converter that gives you an opportunity to export hundreds of songs in WMA format into MP4. You can use it to convert WMA to MP4, WAV, MP3, OGG, WMA, APE, FLAC, and many other formats. Total Audio Converter has a batch conversion mode and thus can be used to convert many songs at a time.
Total Audio Converter is not an online tool; it is a fully functional desktop application. You can take advantage of all the functions enabled into Total Audio Converter. All you need to do is to complete the following steps:

Download audio converter. Check out the trial version of the tool without registration for 30 days.


Install and open Total Audio Converter. You can use both GUI and command line depending on what meets your needs best.

Select the WMA files that you want to convert. Tick them off from the list of files and folders created by the converter.

Set MP4 as the target format and click the "Start" button to begin conversion. Orů

Adjust the default settings by changing samplerate, bitrate and other parameters.

Press "Start!"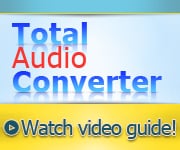 Use can also use Total Audio Converter to grab compact discs and download music from YouTube. Learn more about the functions enabled into Total Audio Converter by downloading it right away! Purchase Total Audio Converter with a 30% discount by simply "Liking" it on Facebook!