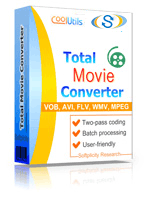 Windows XP/2003/Vista/7/8/10
WMV, which stands for Windows Media Video, is a video compression format developed by Microsoft as a competitor to RealVideo. It was first introduced in 1999 and then was upgraded several times to meet modern video requirements. Although the advantages of WMV are obvious, there are also certain drawbacks to this video format. First and foremost, it must rely on Windows; second, the delay of video transmission in WMV is very obvious. It is due to these disadvantages of WMV that certain computer users prefer to convert WMV videos to other formats.

As a general rule, WMV converter is used to complete the conversion of WMV to other formats. More advanced users, however, prefer to download all-purpose video converter. Unlike WMV-only converter, it can be used to process almost all video formats.

To take advantage of low price, high quality and extended functionality, consider getting Total Movie Converter by CoolUtils. This video converter is already owned by millions of users worldwide and here's why:
This video converter is very easy to use. Regardless of whether you have a lot of or little technical knowledge, you will be able to master Total Movie Converter in a matter of minutes. Use the built-in wizard to see how it works.
Total Movie Converter supports almost all major video formats. With the help of this application, you will be able to convert anything, from AVI and MPG to MOD and NSV.
CoolUtils conversion software can be used to convert WMV in batch. If you oftentimes need to process videos files, you will definitely appreciate batch conversion option that allows to deal with hundreds of movies at a time.
Total Movie Converter is perfectly suited to convert video from the Internet. As such, this application is specially designed to grab movies from such popular portals as YouTube, Vimeo, and Sevenload.
To use Total Movie Converter for free, take advantage of CoolUtils' promotion. Download the trial version now and enjoy it for 30 days. There is no obligation or hidden fees, so do not hesitate to download Total Movie Converter right now!