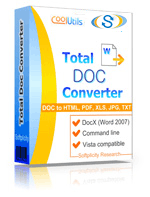 Download
Windows 98/2000/NT/XP/2003/Vista/7
Interface languages: English, Spanish, German, French, Russian, Dutch, Swedish, Italian, Portuguese, Czech, Japanese, Chinese, Korean.
The fastest way of optimizing Word documents for web is creating its HTML copies with the help of such Word to HML command line converter like Total Doc Converter. With its help even an amateur user can create ready-to-use HTML pages, exact copies of Doc or DocX copies. This converter is suitable for exporting files from any versions of MS Office, even the newest ones. That is why it can be used for any documents created with the help of this package. Automatic conversion of Doc to HTML is much more efficient than manual coding. It helps to transfer all the information correctly without any programming, as all required HTML tags are added by converter. When using Word to HML command line converter, minimum settings required from a user, including:
destination file address and name
font size and name
option to keep folder structure in batch conversion.
The command that converts all Doc files from C:\Documents folder to C:\Converted to HTML format will look like:
DocConverter.exe C:\Documents\*.doc C:\Converted –cHTML
You need to enter something like this in Windows cmd processor, and Total Doc Converter will do the job automatically in background mode. You donít need to open the program window, just enter a single command and wait for a second, while your Word to HML command line tool will process all source data.

Total Doc Converter is good for both single and batch types of conversion. When you need to convert more than one file, the utility does this in the same way as if it was a single source. If you wish, you can unite all Doc source files in one folder and use it as a source for your batch conversion. If you need a conversion feature for a web server, try Total Doc Converter X, a web-oriented version of desktop document converter. Both converters are available in licensed and trial versions. Chose what you like and download!