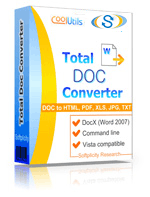 Download
Windows 98/2000/NT/XP/2003/Vista/7
Interface languages: English, Spanish, German, French, Russian, Dutch, Swedish, Italian, Portuguese, Czech, Japanese, Chinese, Korean.
If you need to edit documents as graphics or use some their fragments in design, all you need to do is to convert Doc file to JPEG. If you need to do this as quickly as possible, use Word to JPEG command line converter from CoolUtils – a program that is enabled from cmd processor, as well as graphic user interface. Total Doc Converter is a universal converter for exporting texts, tables and databases to various graphic and text formats. It supports Doc to JPEG or DocX to JPEG conversion modes with adjustable parameters, including:
Size and orientation of paper
Font size and style (all fonts installed on your PC are supported)
JPEG quality (compression level);
Ability to save every source file page to separate JPEG image.
Using Total Doc Converter in Word to JPEG command line mode implies that the converter is enabled from cmd processor. In the same way, as if using it with GUI, you need first install the program on your PC. Then just print the command in cmd, with no need to open program window and manage settings with the help of its interface. All is defined in one single command that consists of:
Program enabler (DocConverter.exe)
Source file identifier (address of source file or files batch)
Target file identifier (destination address for JPEG copies)
Conversion parameters (file format, paper settings, options, etc.)
After using it once or twice you will remember all required command parameters and will be able to convert hundreds of files within a minute. This is what differs Word to JPEG command line mode from working in user interface, where you need to do lots of clicks. You can also try Total Doc Converter X, a web-oriented version of Doc Converter, designed for web-servers and online applications. Both versions are available for downloading and free testing!