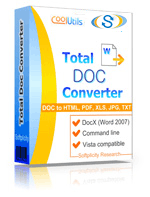 Download
Windows 98/2000/NT/XP/2003/Vista/7
Interface languages: English, Spanish, German, French, Russian, Dutch, Swedish, Italian, Portuguese, Czech, Japanese, Chinese, Korean.
Converting text documents to PDF you can protect information in them from any modifications. With the help of smart converter like Total Doc Converter you can even set specific protection measures like owner and user passwords and watermark. And what is more, all this is available in Word to PDF command line mode. This mode allows converting file with the help of simple text command entered in Windows cmd command processor. It is preferable for skilled users who don't like to handle programs via graphic interface.

Total Doc Converter exports Doc files to PDF format with a range of optional settings those can be adjusted manually or used by default. When converting files in Word to PDF command line mode instead of graphic interface, you can use the same facilities, including:
Batch conversion for exporting a few Doc files to PDF format (exporting a whole file folder or a batch of folders as well);
Changing paper format for future PDF copies
Setting PDF properties like title, keywords, subject, etc.
Setting font size/style and margins
Converting a few documents into one PDF file.
When using Word to PDF command line mode, you can use Doc, DocX or DocM source files, all these formats are supported by the program. You can specify a group of files by mask. For example, if you need to convert all Doc files from C:\Source folder, the conversion command will look like
DocConverter.exe C:\Source\*.doc C:\Converted –cPDF
As a result PDF copies of source files will be saved in Converted folder.
The advantage of using Word to PDF command line is saving time and ability to convert files in background mode. It is an ideal solution for professional use when it is needed to process dozens of files quickly. If you need a GUI-free Word to PDF converter for web server or using it as online service, try Total Doc Converter X.