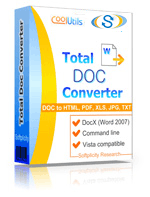 Download
Windows 98/2000/NT/XP/2003/Vista/7
Interface languages: English, Spanish, German, French, Russian, Dutch, Swedish, Italian, Portuguese, Czech, Japanese, Chinese, Korean.
When text tables are stored in Doc format, you can easily transform it into Excel format using Word to Excel command line converter from CoolUtils. Total Doc Converter, besides handling from easy-to-use user interface, offers doing conversions from Windows cmd menu. One single command is required to convert any number of Word files and create exact Excel-copies of the tables they contain. This feature is a better alternative for those users, who want to save maximum of time on conversions.

Total Doc Converter is a reliable utility for transferring information from one file format to another, it gives the following advantages:
ability to convert many files within one command;
correct data transfer between formats
ability to edit text formatting for converted files
choice between GUI and command line mode
fast conversion: a few seconds is required only.
When using the program in Word to Excel command line mode, you need to start the program with a simple command entered in Windows cmd. In such a way it is enabled in background mode, that saves additional system facilities for other purposes. The command itself consists of source and target file destinations plus conversion parameters, where only conversion format is required one, while the rest are optional. If specifying no parameters except conversion format, the program will create exact copies of Word sources with unchanged layout.
Total Doc Converter supports lots of source formats, among which are:
Doc
DocX
DocM
TXT
RTF
ODT
That is why it is a universal text converter, capable of converting texts to all of popular document and image formats used today. Be free to download it in trial or buying a license. Besides desktop version, the utility is also available in version for a Windows-server – Total Doc Converter X. It is also GUI-free converter working in command line mode.