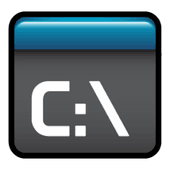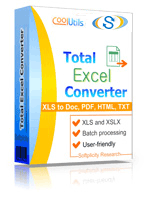 Download
Win 2000/NT/XP/2003/Vista/7
Sometimes it is convenient to transform Excel file into Doc in order to insert tables into a Word document or make it more suitable for viewing by different text viewers. Doc is much better supported by various applications than XLS. This task is solved by using Total Excel Converter capable of working in Excel To Doc Command Line mode. You can convert any number of Excel files to Doc format simply with the help of command line parameters. No extra-clicks around GUI, just one text command is able to perform you the fastest possible protection of all XLS sources.

When converting XLS file to Doc, the program correctly transfers each cell value, saving the table structure. You can either save formatting unchanged, or set new paper format for the future Doc copies. Using Excel To Doc Command Line gives you a range of invaluable advantages:
Saves your time: short command is enough to perform conversion
Provides with correct conversion only: no conversion errors or conflict between formats
Allows to adjust settings: format converted files in the way you need
Defines source files automatically: even if a source folder contains files of other formats, you can sourt out XLS by applying a *.xls mask.
Total Excel Converter is extremely flexible in Excel To Doc Command Line mode. You can specify a range of pages for conversion instead of converting the whole file, process all or specific sheets of a source document. And each option is set within a few characters in the command line.

If you need to make such facilities available for using online as a part of your web server, use Total Excel Converter X. It is a web-oriented non-GUI version of desktop Excel converter. It also works locally on a web server, if you need to set a converter for local network.

Flexible but very simple in use, Total Excel Converter will become a useful helper for you!