Conversion between newer and outdated data formats is always a problem, as there is no such feature in standard programs. For instance, export from XLSM into DBF format is impossible in Microsoft Excel. If you need to perform this data export, Total Excel Converter will offer you help. Without big efforts you will create accurtae DBF copies of your tables, ready for further use.
Total Excel Converter supports single and batch conversion modes. You can convert XLSM to DBF in batch as quickly, as one file. The only difference is a need to form source files list. Due to integrated file navigation system, this takes a few seconds. Please, note that:

It will be easier to put all the source files into one folder and set it as the source for conversion

This XSLM DBF converter can process files located in one folder only

If you check some file in the list, it will be automatically included into the batch

Use the 'Check All' button to include all files from current folder into conversion batch.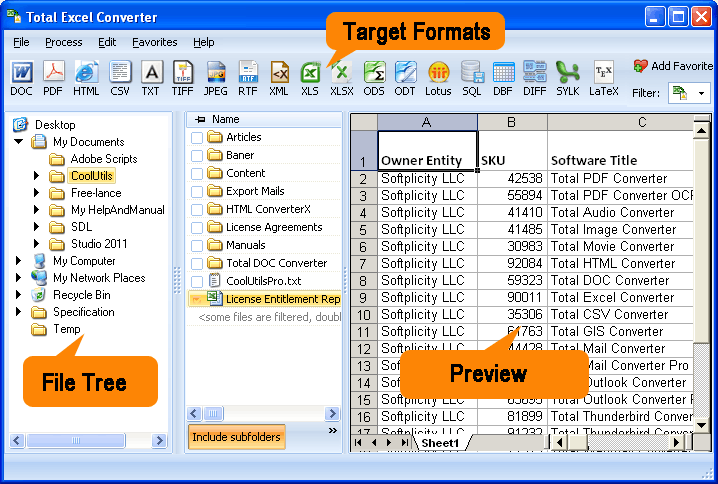 In case of a single file conversion you will need to check only one file. The next step of conversion is settings. It is the same for batch and single conversion. You can specify a file name template, add header, footer and that's all! File name template is useful for proper naming of converted copies. It is essentially useful, when you process a lot of files or split huge XLSM file into separate pages. All these settings can be skipped, and Total Excel Converter will convert XLSM files without any changes in formatting. It is the quickest way of data export.
Total Excel Converter also supports command line mode. Using it you can process the files not opening the program, but sending conversion commands to it through CMD interface. You can try all these features for free by downloading and installing a trial version. It is valid for 30 days!