XLSM is a rather new table format supported in MS Excel since 2007 version. It is not suitable for editing in older program versions and hardly can be read by non-Microsoft applications. If you have texts stored in XLSM, you can convert XLSM into DOC format and use it as a standard Office text document. Such option is available in Total Excel Converter.
Total Excel Converter supports various table formats, such as: XLSM, XLS, XLSX, XML, CSV, DBF.
Files in these formats can be exported to texts, PDFs, images or even HTML pages. You can convert XLSM to DOC in batch for quick export of big number of tables. In batch conversion all files will be processed with the same settings, and you donít need to repeat the same adjustments to each separate source file. The program can export XLSM files one by one, and even allows converting each page to separate DOC file.
When setting up conversion mode, you can specify page formatting. For instance, make this XLSM DOC converter produce DOC copies in A4 or A5, landscape or portrait, set specific margins. It is possible to add headers and footers for future documents. Even font type can be selected for them. Remember that in case of batch conversion these settings will be applied to all tables in batch.
The settings mentioned above are optional. There is no need to change them, if you do not have such requirements. By default the program will convert XSLM files saving their original formatting. Tables in a new format will be easy to read and print.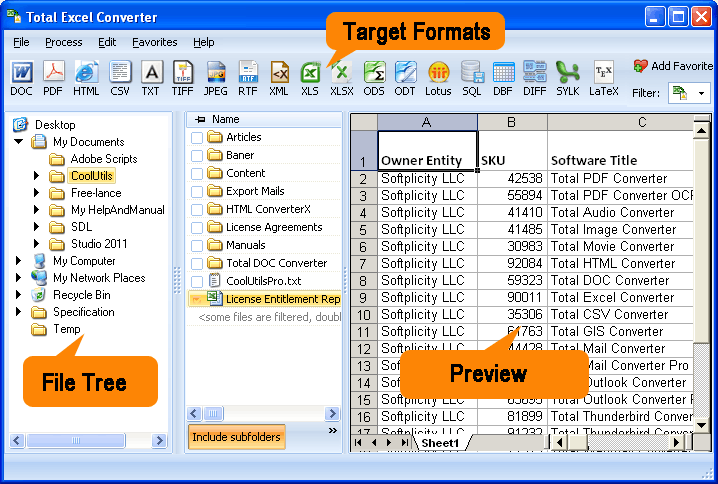 You can convert XLSM files from the command line or context file menu, instead of using graphic interface of the program. All these modes are supported by Total Excel Converter.
Download this XLSM converter and test on real files for free. Upgrade to a licensed version is made without reinstallation.