If you want to make XLSM format 'more open' and usable out of Microsoft Office, the only way out is converting it to other formats. Tables will become compatible with OpenOffice software, if to convert XLSM into ODS file type. You will do this correctly using Total Excel Converter.
This tool works for XLS, XLSX, XML, CSV, TXT, DBF files and can convert them to one of the aforementioned formats, as well as to: ODS, JPEG, TIFF, ODT, SQL, DIFF, SYLK, DOC, PDF.

Besides correct data export, this converter has one more huge plus - it can convert XLSM to ODS in batch instead of processing each file separately. This approach is intended for making the whole process maximally quick and effortless for user. When you deal with a lot of XLSM files, converting them will not take a few hours of your time anymore. A batch of files is converted as quickly, as a single table.

The first step of conversion is setting a batch of source files. Use navigation tab built in the program.

After this enable XLSM ODS converter by pressing the ODS icon on the top.

Go through the settings wizard and make proper adjustments.

When done, just press Start! and get your files converted.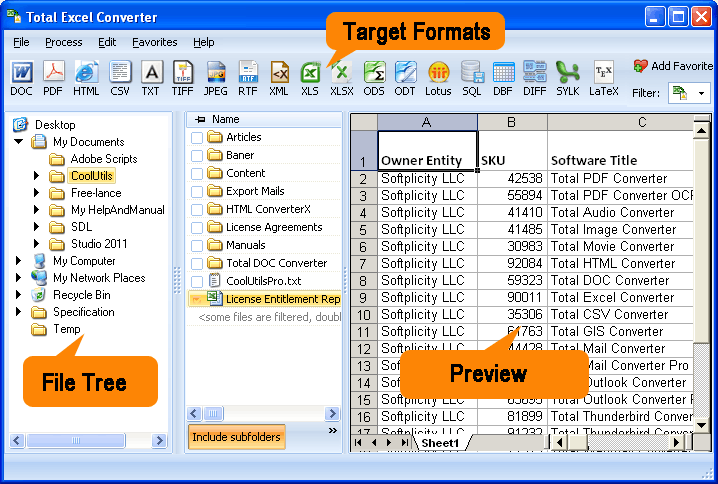 Settings usually serve for adding header or footer into converted copies, specifying their location. In batch conversion mode you can convert every page of the source into a separate ODS document. By default the program will convert XLSM files not splitting them to pages.
For header and footer you can setup text they would contain and parameters for it. You can set macro codes to show up in footer or header too. The text will be properly aligned and styled.
Get Total Excel Converter in 30-day free trial to test its XLSM conversion in real.