There is always a problem in exporting data between the newest and outdated formats, as they belong to different generations of software. Total Excel Converter is the way out of this situation, when you need to convert tables from XLSM into PCL format. PCL is not supported by Microsoft Excel and the majority of today's programs. It is a format that allows printing tables properly in outdated versions of HP devices.
Total Excel Converter makes table conversion effortless and comfortable for a user. You will feel its help in every step:

Defining source files is made in a built-in navigation tab

Formats for conversion are comfortable listed at the top of the program window

Settings wizard pops up automatically after you select conversion format

All settings are logically divided into tabs

After conversion is done, a folder with converted copies is opened automatically.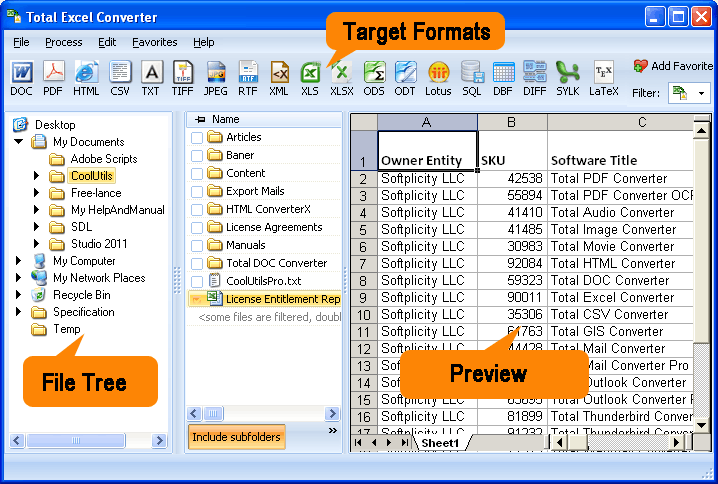 The program doesn't require a lot of your time, as you can convert XLSM to PCL in batch, i.e. all together. You will get each source converted to a separate PCL file. The parameters for such conversion include ability to add a header or a footer, set paper format and file name template. File name template help to sort the future copies by specific way, keeping the whole storage in correct order. You can convert XLSM files with default parameters, not changing anything. PCL copies will be named as original files, no header or footer will be added, and paper format will be standard (A4 portrait).
Usually users go through graphic interface for setting up tables conversion. You should know that this is not the only way. You can run this XLSM PCL converter from the command line. In Windows it is cmd command in Runů menu. Just type conversion request, it will be sent to the program, and you will get files converted.
Try it by getting Total Excel Converter in trial!