Total Excel Converter is a powerful utility, which can be used to convert XLSM files to RTF and other popular formats. Although the program has been around for a relatively short while, it has gained renown among users and is already used worldwide. For the most part, this is thanks to the program's intuitively built interface and affordable price.
With only a couple of years behind, this utility has been taking on new features regularly. XLSM-support is a newly-introduced feature, so users can convert XLSM files to RTF in batch as easily as other file types. Therefore, developers can proudly term this utility a 'XLSM-RTF converter'.

How to Convert XLSM Files
If you have used this tool to convert other files, you must have no problems converting XLSM to RTF. Considering the hardships, which many users have to face opening XLSM files, this program is a treasure trove, and the RTF files just transformed from XLSM files are the treasures.

To make XLSM into RTF, run the utility and navigate the folder tree. If you know, in which folder your XLSM files are located, you will not have any difficulty finding it. Click on that folder. The content will be shown in the file list, in which all XLSM files are supplied with checkboxes. You can check one file or a bunch of files using the 'Check all' button. If you are intent on converting one or a small group of XLSM files to RTF, tick them manually. If you are going to convert XLSM to RTF in batch, click 'Check all'. If there is one or a few files, which you want to leave unconverted, click on their checkboxes. If you would like to cancel the checking, click the 'Uncheck all' button.

Navigate the format bar or Convert menu and select RTF.

Select destination folder in the wizard, so that you can find your RTF files easily. Set file name template and paper options.

Press the 'Start!' button to convert.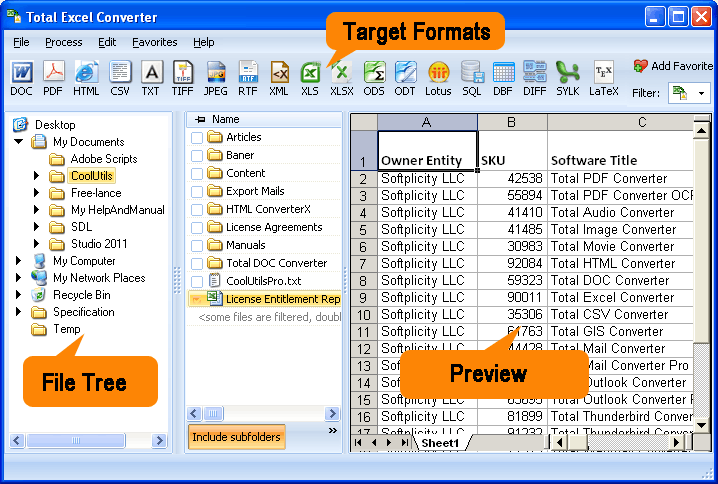 This XLSM RTF converter is available on our official website in two versions: free demo version (valid for 30 days) and license version. If you purchase the latter, you will enjoy the program as long as you want.