If you have been dealing with an XLSM conversion issue, which is not unlikely, Total Excel Converter is the right solution. This is one of the few converters capable of converting XLSM to Text. XLSM has just joined the list of source formats, which is now pretty extensive.
This converter is known for its exceptional user friendly interface and simplicity of use. This is what both experienced users and beginners say about this program. Converting XLSM files is a standard procedure. You can just read the interface. If you have downloaded the free trial version, it will take just a couple of tries to learn the art of converting XLSM files.

XLSM files can be converted in batch, which is just as simple as converting one file. This converter does it in seconds. Just press the right button.
How to Convert XLSM in Batch

If you have launched the interface, you can see that it is divided into sections. There is a folder tree in the left-hand section. Here you should find the folder, in which your XLSM files are stored. If you know where it is, you will not have difficulty finding it. When you find the folder and click on it, the files will appear in the middle section. Here you can see each file supplied with a checkbox. Now you are to decide whether you want to convert a few XLSM files to Text or batch-convert the whole group.

In the former case, check files manually using the mouse. In the latter case, press the 'Check all' button below. The system will tick all the files.

Select Text in the target format toolbar. Some users prefer to specify target formats via Convert menu. Use the wizard to apply your preferred conversion settings. Use your preferred destination folder.

Click 'Start!' to convert XLSM files and wait.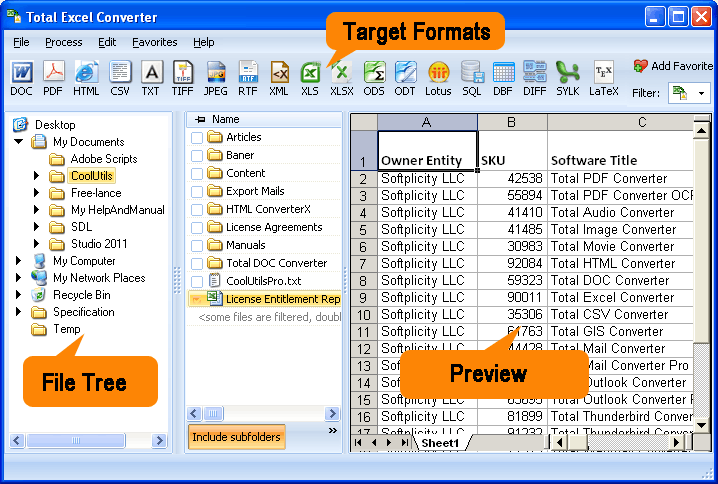 This XLSM Text converter is available all the time. Use 30-day free demo version to get a little training on conversion. Upon expiry of the trial period, you will need to register and buy the key.