Converting tables to web page format requires a lot of coding. It is impossible for users who have no skills in web programming. If you have XLSM files that should be converted into XHTML format, use Total Excel Converter. This program automatically exports tables from XLSM into XHTML, creating completed web pages that can be posted online.
You will appraise the ability to convert many tables within one click, using Total Excel Converter. This allow adjusting all output files for one specific formatting and processing huge number of files very fast. Most of converters don't feature processing files in batch, and user needs to repeat the same actions again and again, for each file. With Total Excel Converter this is much easier. You will set all parameters once and convert XLSM files all together.

Conversion to XHTML is useful not only for creating content pages for websites. It is also reasonable, if you need to make XLSM files viewable without any additional software. XHTML files can be viewed in a standard web browser. To setup XLSM XHTML converter for your needs use the following parameters:

You can adjust header and footer for desired XHTML copies

You can convert each sheet into a separate XHTML page

File name template will help to name copies properly

The program will save converted files to the folder you specify as the Destination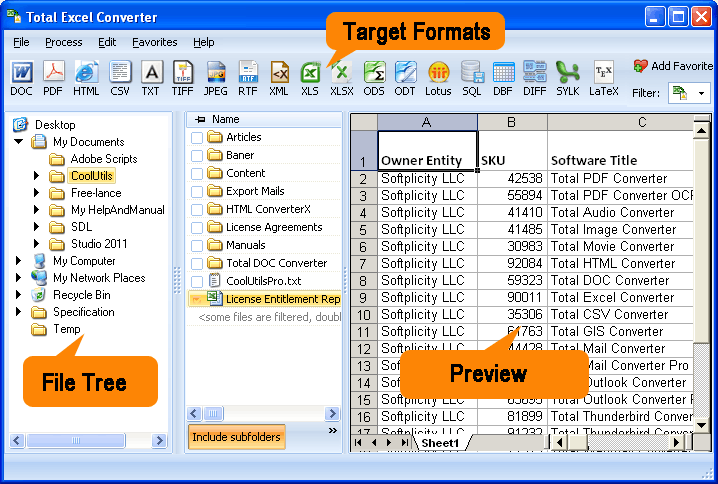 Total Excel Converter features clean and highly intuitive interface that will cause no troubles even for beginners. It leads you though the entire process and requires minimum of your efforts. You can convert XLSM to XHTML in batch with the default settings. In this case you will get clear copies of original tables in XHTML format without any manual adjustments.
Total Excel Converter is shareware. You can use a free version during 30 days and then upgrade to a licensed. Try it!