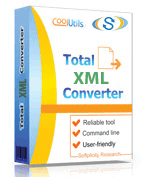 Interface languages: English, Spanish, German, French, Russian, Dutch, Swedish, Italian, Portuguese, Czech, Japanese, Chinese, Korean.

Win 2000/NT/XP/2003/Vista/7/8
Spreadsheets are great at storing data but they can sometimes present a challenge when trying to export that information into another format. With the Total XML Converter you'll be able to convert XML to CSV through our user-friendly GUI faster than you ever imagined possible. By opting to convert your XML to CSV in batch, our program can do the work for you no matter how big the job.

One of the great things about our XML CSV Converter is that it leaves all the original timestamps intact! Your new files will still have the same date as their source files. Our converter also lets you create a .bat file to save your current project settings; allowing you to convert files later via the command line. We even give you the ability to specify CSVs, such as the comma and separator.

Download the XML Converter today and increase the editability and usability of your XML files by converting them to the format your project requires. By purchasing the Total XML Converter for $39.90, you'll be given a lifetime license that includes all major upgrades free within the first year from purchase! We also provide our users with access to our exceptional tech support; available to you via email, phone, Facebook and Twitter.
While there are other converters out there, none are able to compare to the versatile utility that Total XML Converter users benefit from. Still not certain our converter can help you take your newest project to the next level? Check out our 30-day free trial. Although saved files will receive a watermark, you'll be able to experience firsthand what an amazing difference the Total XML Converter can make! Make sure to explore some of the conversions we offer solutions for: CSV, DOC, HTML, JPEG, TIFF, and more.