So you bought CoolUtils Pro Bundle and got around 49 useful programs for such a small price. Let's see what can CoolUtils tools do for you if you like music. How can CoolUtils tools help you in that?
First, you definitely need an audio converter. Today audio tracks can be of dozens of different formats and not all of them are supported by your iPod or other mp3 player. Just get Total Audio Converter do the job. It supports almost all popular audio formats and can convert them to MP3, WAV, OGG, WMA, FLAC, CDA, ACC, APE, MPP. Note that Total Audio Converter has a built-in CD ripper. That means that you may rip tracks from CD's and upload them to your iPod in the neccessary format.
As most of CoolUtils products you do not have to launch TAC to convert your files. Just select the file on your desktop and make right button mouse click. In the popup menu you will see options like Play, Rename, Delete. Choose Convert To.
We all have folders with hundreds of audio files. And few people have all them in decent order (not me!). To have a full list of song that I have in each folder I use Print Maestro. That unique tool prints out a list of my songs with Artist, Title, Album, Comment tags or BitRate, Sample Rate, Channels, Duration tags. Here is how it looks like: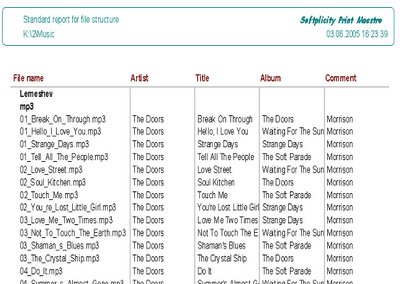 Nice and easy. PrintMaestro can also print a folder tree with size information or any other report.
Note that these tools are a small part of CoolUtils Pro bundle. Apart from music lovers' tools you will get almost 30 other programs to manage your everyday tasks. The list is here. The more CoolUtils tools –  the more enjoyable your pc life is;)