Whether you own a Canon, Nikon, Olympus or Sony, your high-spec, high res cameras will produce raw file format. When looking to capture the quality of the light and the granular detail, your Olympus raw file or your Nikon raw file format is perfect.
If all you wish to do is print and display, then the raw file format is perfect.
However, many professional photographers need to take this image and send it to a photo editor or upload to a website. Now your raw file format is too big, and you need a raw image converter.

No matter the camera, the Total Image Converter can provide high-quality images that are practical for the online world. This is the perfect package if you need a:
Canon raw image converter
Nikon raw image converter
Olympus raw converter
Sony raw image converter
All raw files can be converted to JPEG, TIFF or even PNG in a single package. The supported output formats include: PDF, TIFF, BMP, PNG, ICO, JPEG, JPG, JPG2000, GIF, TGA, PXM, WebP, PC, PCL, XPS, PPTX, AVS, CIN, DOT, DPX, FITS, HDF, MIFF, MTV, PALM, RAW, PICT, SGI, SUN, VICAR, VIFF, XBM, XPM. This tool has your conversion needs covered.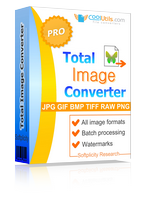 Batch conversion
As a serious photographer, you will produce thousands of photographs in a single week. Having to take each picture at a time and converting it to your new format is a waste of time and money. This time could be used more profitably out in the field or on your next commission.
All the images from a single shoot could be converted in a single action. You can take your photographs and create your online portfolio in a matter of minutes.
Although Total Image Converter offers the power to convert to 30 different formats, this is not the end of its conversion powers. It also allows you to combine all the images into a single PDF document; resize a batch of photographs ready for the web and rotate all in a single click.
When you opt for the pro version of the converter, you have the option of taking those super large images and converting these too. You need not limit your imagination any longer.
Everything in a friendly package
The user-interface of your Total Image Converter is intuitive and familiar. The navigation features are as simple as finding your files on your laptop. Click to select and click to start – and you will have converted photographs in a matter of moments. You have 5000 images – no problem – click, click and your new file formats will be ready to send to the editor or your client.
In short, with one simple package, you could save yourself hours of online tinkering. You could take a day's work, and have it filed, stored and ready to send before your tea has pinged in the microwave.